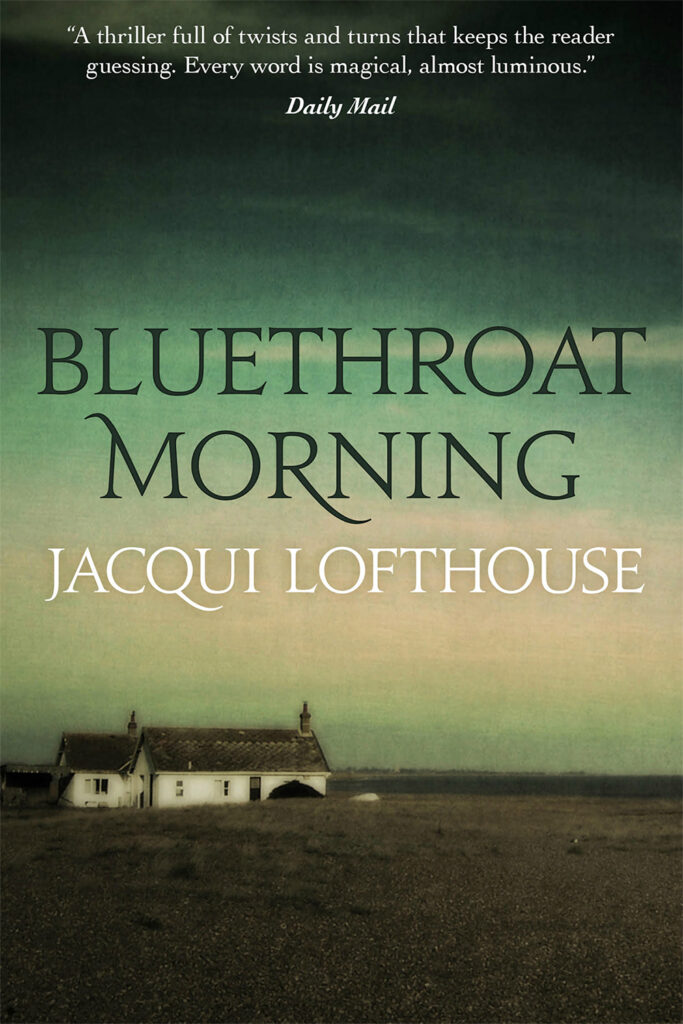 A literary thriller, set in Norfolk and London, exploring the often troubled relationship between women and their writing
Bloomsbury 2000 (Paperback)
Blackbird 2018 (Kindle edition)
Alison Bliss, world-famous model and author of critically acclaimed Sweet Susan, walks into the sea on a 'bluethroat morning'. In death she becomes a greater icon than in life, and the Norfolk village of Glaven, where she spent her final days, is soon a place of pilgrimage. Six years later her husband Harry, a schoolteacher, is still haunted by her suicide and faithful to her memory. Then he meets nineteen-year-old Helen, and they begin an intense affair. But their liaison is darkened by the past. Harry is attracted by Helen's uncanny resemblance to Arabella – his ancestor's second wife – whose story inspired Alison's final work. Not much was known about Arabella, except that she had drowned herself in the sea at Glaven, her hometown. Fascinated by her photograph, Alison had travelled to the Norfolk village only mysteriously to follow in Arabella's tragic footsteps.
Propelled by their affair, Harry returns with Helen to the scene of his wife's death. There they meet ninety-eight-year-old Em Higham who holds the key to both Arabella and Alison's stories. With the media circling, Harry discovers a tale that has been generations in the making and at whose centre may lie the reason for Alison's suicide. As he pieces together the past and confronts his own pain, Harry discovers he must relive history to truly understand it.
Jacqui Lofthouse has written a subtle mystery, layered with literary resonance, that explores the often troubled relationship between women and their writing. Suffused with the atmosphere of the Norfolk landscape, this is a haunting, compelling novel.
A new paperback edition is forthcoming.
Affiliate links
Bluethroat Morning can be read as an accomplished and gripping gothic mystery, as the story of Harry Bliss's journey out of the halfway house of his grief and incomprehension, and also as an exploration of one woman's relationship to beauty, fame, love and death…Lofthouse creates a convincing and poignant picture of what it means to write: the deep-seated need to create.
Linda Buckley-Archer, author of 'Gideon the Cutpurse' | Bluethroat Morning
The intertwining of the two main stories is very skilfully done, as is the delicacy and understanding she brings to the key themes – suicide, creativity, love and especially paternal love. Very moving.
Henry Sutton | Bluethroat Morning
An ambitious novel, which seeks to plumb the darkness that often lies below the bright, successful surface of creative people who doubt their ability to give form to what lies at the soul of their art – and who are sometimes destroyed by it.
The Good Book Guide | Bluethroat Morning
If this were a movie script, one might pitch it as Twiggy meets Sylvia Plath in a remake of Hitchcock's Vertigo.
Scotland on Sunday | Bluethroat Morning
A moving read, threaded through with mystery and excitement.
Good Housekeeping | Bluethroat Morning
Captures the spacey feel of Norfolk well – an engaging read, intriguingly structured, tough in some of its insights, and sexy too.
Lindsay Clarke, author of 'The Chymical Wedding' | Bluethroat Morning
There are many elements to savour in this novel. Lofthouse has a fine eye for the bleak Norfolk landscape and how it both reflects and affects characters' moods.
Tracy Chevalier, author of 'Girl with a Pearl Earring' | Bluethroat Morning
A thriller full of twists and turns that keeps the reader guessing. Every word is magical, almost luminous.
Daily Mail | Bluethroat Morning
With translations in Dutch, French, German and Italian.